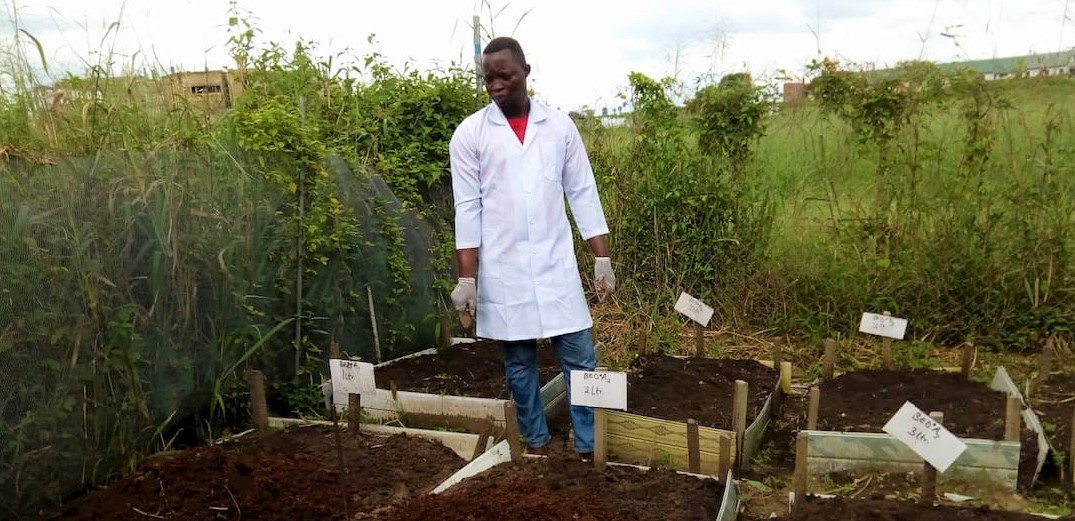 Biomonitoring and Remediation
The biomonitoring and remediation research group focuses on applying our knowledge of applied microbiology and biotechnology to develop innovative techniques to mitigate and address environmental challenges.
We concentrate on environmental monitoring and development of bioremediation protocols that utilizes microorganisms and their products to degrade organic pollutants such as hydrocarbons and hydrocarbon based compounds, pesticides and antibiotics. As well as development of potent soil amendment that can be used to improve fertility of hydrocarbon contaminated farmlands.
Currently we are working on developing a bio fertilizers enhanced with potent degraders for application in hydrocarbon contaminated agricultural soils.
Microbiological Evaluation of the Effect of some industrial effluents on Tropical Hydric Soils Using Sanger Sequencing and Metagenomics Techniques. (2019)
Microbiological Profile and Heavy Metal Accumulation Potentials of Tilapia (Oreochromis niloticus) and Catfish (Clarias guriepinus) from the Wild and Crude oil Contaminated Aquaria. (2017)
Effects of bacterized organic amendment on microbial communities, soil enzymes and other indices of soil fertility of a crude oil impacted garden soil (2017-)
Microbiological Studies: Environmental Audit of West Atlantic Shipyard Operations, OGFZ, Onne (2017)
Microbiological Studies: EIA of Abuja Power Feeding Scheme Transmission Project, PGM Nig. Limited (2016)
Enhanced biodegradation of PAHs using biosurfactant producing bacteria from a humic freshwater ecosystem of Eniong River, Itu-Nigeria (2016)
Modeling crude oil Degradation by Pseudomonas Eshc2 isolated from sediment of Eniong River Itu, Nigeria (2015)
Bacterization of boiostiumulants and its diauxic effects on hydrocarbon degradation and remediation of crude oil contaminated garden soil (2016)
Micrococcus luteus: A potent biosurfactant source of enhanced remediation of crude oil polluted soils (2015)
Microbial Characterization of Sewage Sludge and effects of Composting and Drying on the Survival of Pathogens in Biosolid (2015)

2021

Agbo, B. E., Etim, D. O., Itah, A. Y., & Brooks, A. A. (2021). Evaluation of Microbial Loads and Physico-Chemicals of Cassava Mill Effluent Simulated Soil. South Asian Journal of Research in Microbiology, 9(1), 13-26. https://doi.org/10.9734/sajrm/2021/v9i130200
Akan, O. D., Udofia, G. E., Okeke, E. S., Mgbechidinma, C. L., Okoye, C. O., Zoclanclounon, Y. A. B., … Adebanjo, O. O. (2021). Plastic waste: Status, degradation and microbial management options for Africa. Journal of Environmental Management, 292, 112758. DOI: https://doi.org/10.1016/j.jenvman.2021.112758
Fatunla, O., Essien, J., Ofon, U., Shaibu, S. and Dan, E. (2021). Microbial diversity of Nigerian sludge and its potential for use as biofertilizer. Biotechnology Journal International, 25(1): 14-22
Ofon, U.A., Ndubuisi-Nnaji, U.U., Shaibu, S.E., Fatunla, O.K. and Offiong, N.O. (2021). Recycling anaerobic digestate enhances the co-digestion potential of agro-industrial residues: Influence of different digestates as sources of microbial inoculum. Environmental Technology, DOI: 10.1080 / 09593330.2021.1952313

2020

Adegoke, A.A., Fatunla, O.K. and Okoh, A.I. (2020). Critical threat associated with carbapenem-resistant gram-negative bacteria: prioritizing water matrices in addressing total antibiotic resistance. Annals of Microbiology, 70(43): 1-13
Ntukidem, V. E., EtokAkpan, O. U., Abraham, N. A. and Umohinyang, E. U. (2020). Physiocochemical and antimicrobial evaluations of food grade ash aqueous extract from furnace and charred plantain peel and palm bunches: A comparative approach. International Journal of Food and Nutrition Sciences, 5(1):091-097
Ntukidem, V. E., Edima-Nyah, A. P., Ndah, L. S. and Abraham, N. A. (2020). Assessment of microbiological safety and organoleptic properties of tiger-nut (Cyperus esculentus) beverage processed locally and sold in Uyo Metropolis of Akwa Ibom State, Nigeria. International Journal of Food Nutrition and Safety, 11(1):37-50
Uko, M., Udotong, I., Ofon, U., Umana, S. and Abraham, N. (2020). Effect of Hydrocarbon Contamination on the Microbial Diversity of Freshwater Sediments within Akwa Ibom State, Nigeria. Journal of Chemical, Environmental and Biological Engineering, 4(2):32-38

2019

Joseph P. Essien, Edu D. Inam, Donald I. Ikpe, Godwin E. Udofia, Nsikak U. Benson. (2019). Ecotoxicological status and risk assessment of heavy metals in municipal solid wastes dumpsite impacted soil in Nigeria. Environmental Nanotechnology, Monitoring & Management, 11(2019) 100215. https://doi.org/10.1016/j.enmm.2019.100215
Abraham, N and Offiong, N., Ukafia, O. P. and Akpan, P. E. (2019). Source Apportionment of Polycyclic Aromatic Hydrocarbons (PAHs) in a Tropical Estuarine Epipelic Sediment and its Associated Bacterial Degrading Potential. Current Journal of Applied Science and Technology, 32(1):1-11
Osu, S. R, Udosen, I. R, Udofia, G. E. (2019). Remediation of crude oil contaminated soil, using organic supplement: effects of growth and heavy metal uptake in cassava. Journal of Applied Sciences and Environmental Management. (JASEM-04-1937).
Dan, E.U., Inam, E., Fatunla, O.K., Essien, J., Odon, A., Kang, S. and Semple, K. (2019). Effect of Pyrolysis Temperature on properties of Sludge from Wastewater Treatment Plant in Nigeria. Journal of Chemical Society of Nigeria, 44(2): 208-227.
Akpan, S. B., Abraham, N. A., Nkannang, A. and Essien, J. P. (2019). Fate of 2- & -3 Ring Polycyclic Aromatic Hydrocarbons in Estuarine Mudflat from Iko River Estuary, Nigeria. World Journal of Applied Science and Technology, 11(2):148-156
Egbomuche, R., Abraham, N. A., Essien, J. P. and Anosike, I. K. (2019). Humic Substance Utilizing Potential of Bacteria Isolated from the "Blackwater" Ecosystem of Eniong River, Okopedi-Itu, Nigeria. World Journal of Applied Science and Technology, 11(2):129-138
Abraham, N. A., Inam, E., Asamudo, N. U. and Essien, J. P (2019). Molecular Characterization of Micrococcus luteus: A Potential Source of Bioremediation of Crude Oil Polluted Site. World Journal of Applied Science and Technology, 11(2):114-121

2018

Udosen, C. I., Umana, S. I., Essien, J. P., Bassey, M. P. and Uko, M. P. (2018). Diversity and population dynamics of microbial groups in pelagic column of Iko River, Eastern Obolo, L.G.A. Akwa Ibom State, Nigeria. Journal of Applied Life Science International, 17(3):1-14
Udosen, C. I., Essien, J. P., Umana, S. I., Ekong, U. E. and Nkanang, A. J. (2018). Microbiological properties and population dynamics of atmosphere in meso-tidal estuarine Akwa Ibom State, Nigeria. Journal of Advances in Biology and Biotechnology, 17(4):1-19.
Solomon J. Etuk, Senyene Umana and Joseph P. Essien (2018). Evaluation of environmental health status of Edonwhii sandy beach in Akwa Ibom State using bio-physicochemical indices of contamination. World Journal of Pharmaceutical and Life Sciences, 4 (9): 22 -31.
Uduak, S. Fred, Otobong Donald Akan, Joseph P. Essien and Senyene Umana (2018). Microbial diversity and heavy metals concentration of wood smoked-fish from Edonwhii Fishing Settlement in Akwa Ibom State, Nigeria. European Journal of Nutrition and Food Safety, 8(4): 284 -290
Obot, U. R., Udofia, G. E., Osundu, C. and Essien, J. P. (2018). Microbiological Properties of the Lenthic Sediment of Eniong River and the Wetland Soils International Journal of Research, Innovations and Sustainable Development, 8(1): 170-174
Dan, E.U., Inam, E., Fatunla, O.K., Essien, J., Odon, A., Kang, S. and Semple, K. (2018). Chemical Characterization of Sludge Generated from Water Treatment Plants (WTPs) in Nigeria. Journal of Chemical Society of Nigeria, 43(4): 643-655.
Fatunla, O. K. and Essien J.P. (2019). Effects of Hydrocarbon Contamination on Bioluminiscent Bacteria, Soil Enzyme and Fertility Index of a Tropical Ultisol WOJAST, 10(1B): 131-136.

2017

Kayode Fatunla, Edu Inam, Joseph Essien, Emmanuel Dan, Akanimo Odon, Suil Kang and Kirk T. Semple. (2017). Influence of Composting and Thermal Processing on the Survival of Microbial Pathogens and Nutritional Status of Nigeria Sewage Sludge. International Journal of Recycling of Organic Waste in Agriculture (Springer), 6:301-310.
Okon UC, Umana SI, Fatunla OK, Abiaobo NO Essien JP (2017). Bacterial Contaminant and Heavy Metal Accumulating Potential of Fin-Fishes (Synodontis obesus and Marcusenius senegalensis from Humic Freshwater. J. Adv. Microbiol., 6(1): 1-14.

2016

Essien, J. P. and Umana, S. I. (2016). Diauxic Effect of Biostimulant on Crude Oil Polluted Soil (Published Book), Lambert Academic Publishers, Deutschland, Germany, 174p.
Richard C. John, Emem Ntino and Essien, J. P. (2016). Ammonium oxidizing bacteria activity and nitrification rate in oil contaminated wetland soil under remediation with nutrient supplements and leguminous plants. Journal of Environmental Protection, 7: 545 - 553.
John, R. C., Ntino, E. S. and Itah, A. Y. (2016). Impact of Crude oil on Soil Nitrogen Dynamics and Uptake by Legumes Grown in Wetland Ultisol of the Niger Delta, Nigeria. Journal of Environmental Protection, 7: 507- 515.
Essien J. P., Inam, E., Abraham, N. and Udofia, G. (2016). Enhanced biodegradation of PAHs using biosurfactant producing bacteria from a humic freshwater ecosystem of Eniong River, Itu-Nigeria. Journal of Global Ecology and Environment, 4 (3): 166 - 175.
Abraham, N. and Essien, J. P. (2016). Enhanced Bioremediation (Published Book), Lambert Academic Publishers, Deutschland, Germany, 133p

2015

Idongesit Ambrose, Wesley Braid and J. P. Essien (2015) Assessment of Air Quality (Bioaerosols) of Municipal Waste Dumpsite in Uyo Urban, Akwa Ibom State, Nigeria. International Journal of Scientific and Research Publications, 5(9): 1 - 6.
Idongesit Ambrose, Nweke, C. O., Umeh, S. C. I., J. P. Essien and Akpan, P. E. (2015). Bioaerosols load, spatial distribution and quality in the outdoor air environment of Uyo Urban in Akwa Ibom State, Nigeria. World Journal of Applied Science & Technology, 6 (2): 145 - 153.
Itah, A. Y. and Eyo, F. A. (2015). Assessing the Microbiological and Heavy Metal Burden in Some Fresh Water and Marine Fishes in a Segment of the Bight of Bonny, Niger Delta Area of Nigeria. Journal of Microbial and Biochemical Technology, 7(4):68. ISSN 1948-5948.

2014

Edu Inam, Nnanake-Abasi Offiong, Suil Kang, Paul Yang Kang and Essien, J. P. (2014). Monitoring human health risk assessment of emerging organic contaminants in water resources in Niger Delta Region, Nigeria. Science and Technology for Sustainability, 12: 310 - 329.
Olajire, A.A. and Essien, J.P. (2014) Aerobic degradation of petroleum components by microbial consortia. Petroleum & Environmental Biotechnology UK, 5(5): 6 – 22
Benson, N. U., Essien, J. P., Asuquo, F. E. and Eritobor, A. L. (2014). Occurrence and distribution of Polycyclic aromatic hydrocarbons in surface microlayer and subsurface seawater of Lagos Lagoon, Nigeria. Environmental Monitoring and Assessment, Netherlands DOI 10.1007//s10661-014-3800-z